Discipline:
Digital Product Design & UI/UX Design
For:
Upped Events – Specializing in event management software
My time at Upped Events was focused on designing a Kitchen Display System (KDS) for vendors at events to manage and process their orders.  My work focused on taking the existing product, and some product specifications from the COO, to develop a new version of the product to be deployed.  Over my three months with Upped Events, I designed a KDS with uses for IPad landscape, and use on an IPhone in both portrait and landscape mode.  This work included doing a competitive analysis, a feature inventory (and comparison to competitors), and the design of over 200 different screens to outline IPad and IPhone designs.  
After an event attendee orders an item on their device, the order is sent to the vendor to fulfill.  Right now, the screens and processes that the vendor uses to manage the fulfillment of the order are not sufficient.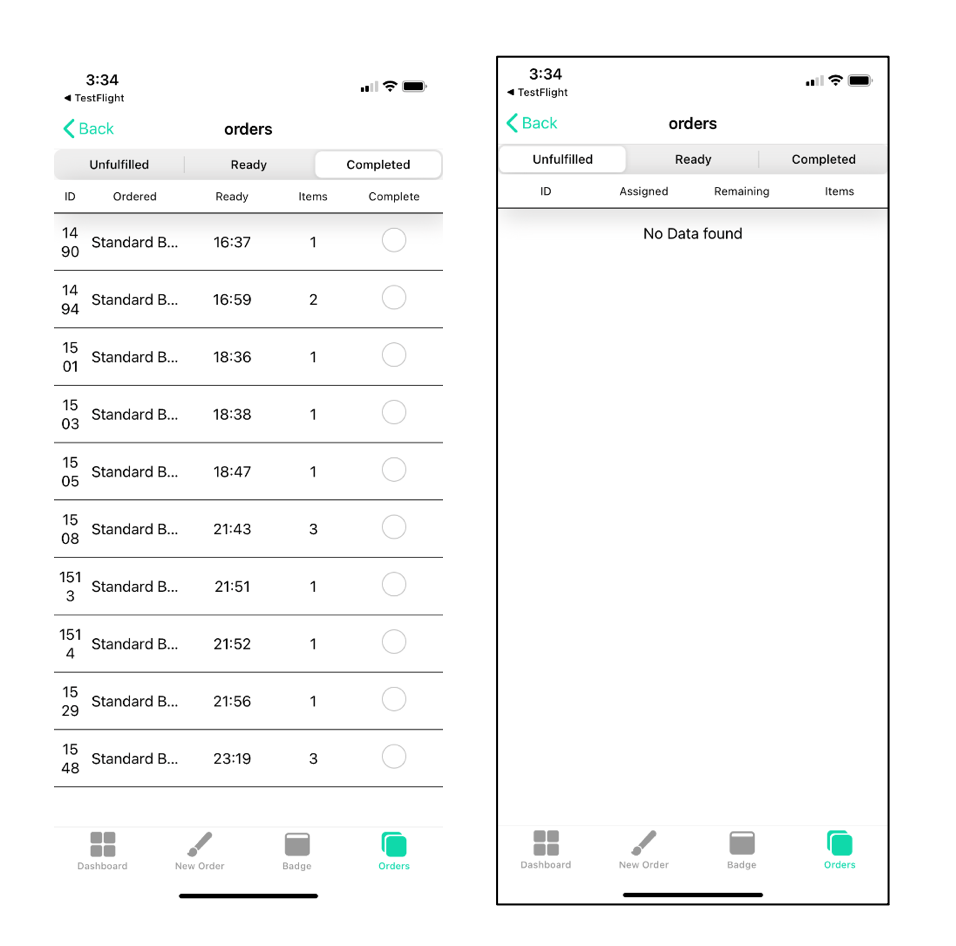 All vendor staff will have access to the "Order Management" modules.  The screens where a vendor can see and manage orders as they come from customers.  It is this process that we are looking to redevelop – from the moment a vendor clicks on the order management system, till they've fulfilled all orders and served their last customer.  The focus of this project was on design and vendor experience.  We thought through functionality, feature sets, and design.  The role ended up including some product management, along with UI/UX design.  
- Design an order management system for Ipad landscape, and iPhone portrait and landscape
- Orders show up as unfulfilled, a staff member claims the order, that staff member completes the order
- Allow for vendors to individually turn on and off claiming capability:  For those that don't want to have claiming,    incorporate a general claimed function for orders
- Ability to add staff members for claiming
- Ability for a vendor to mark items as ready for pickup
- Once an order is picked up, the ticket can be closed
- Tickets can be searched and refunded
- Hoping for Kanban type design
More detailed screen specifications can be found below.  ​​​​​​​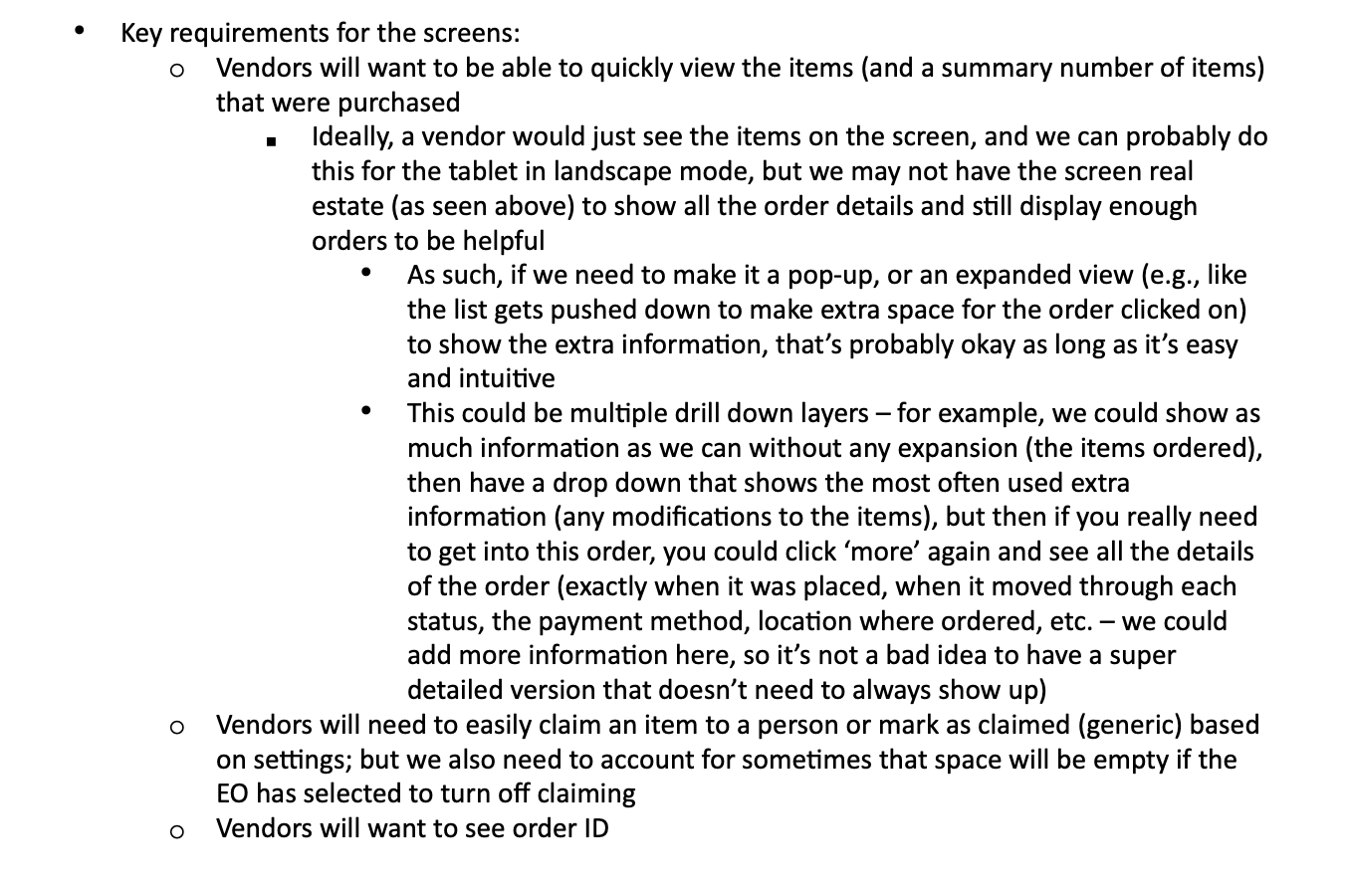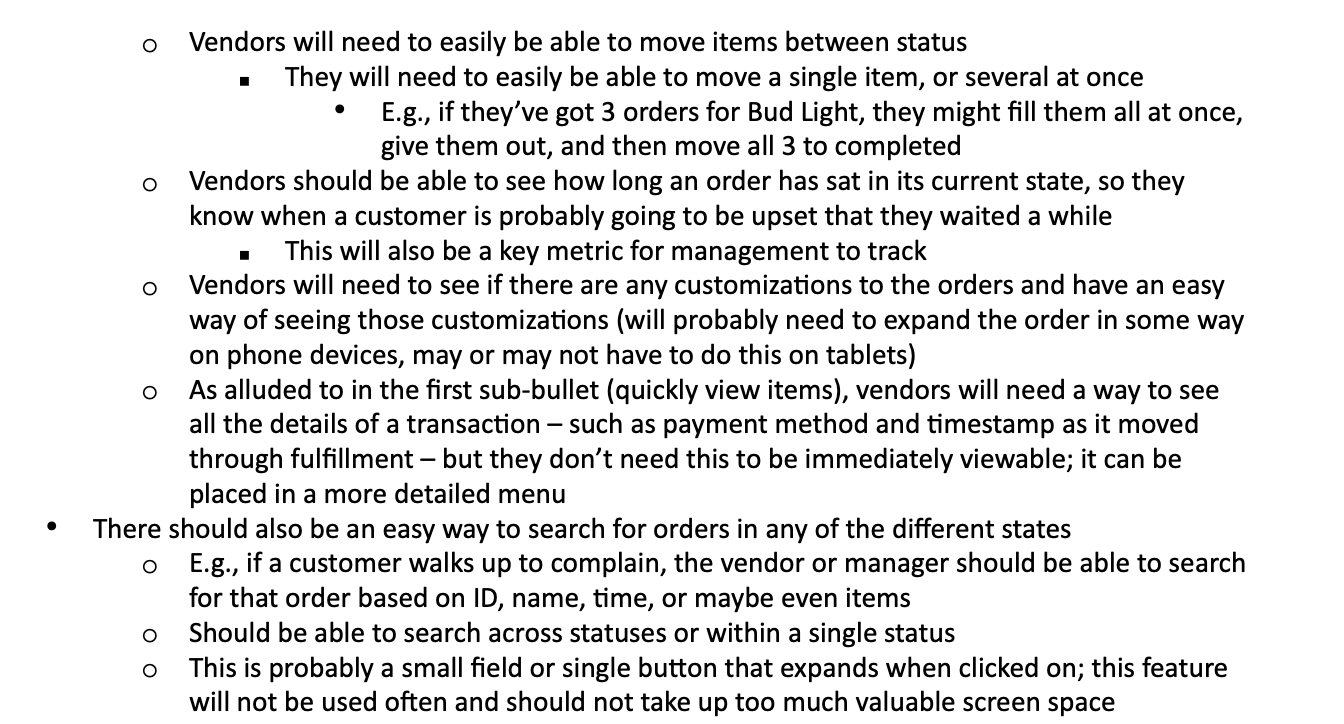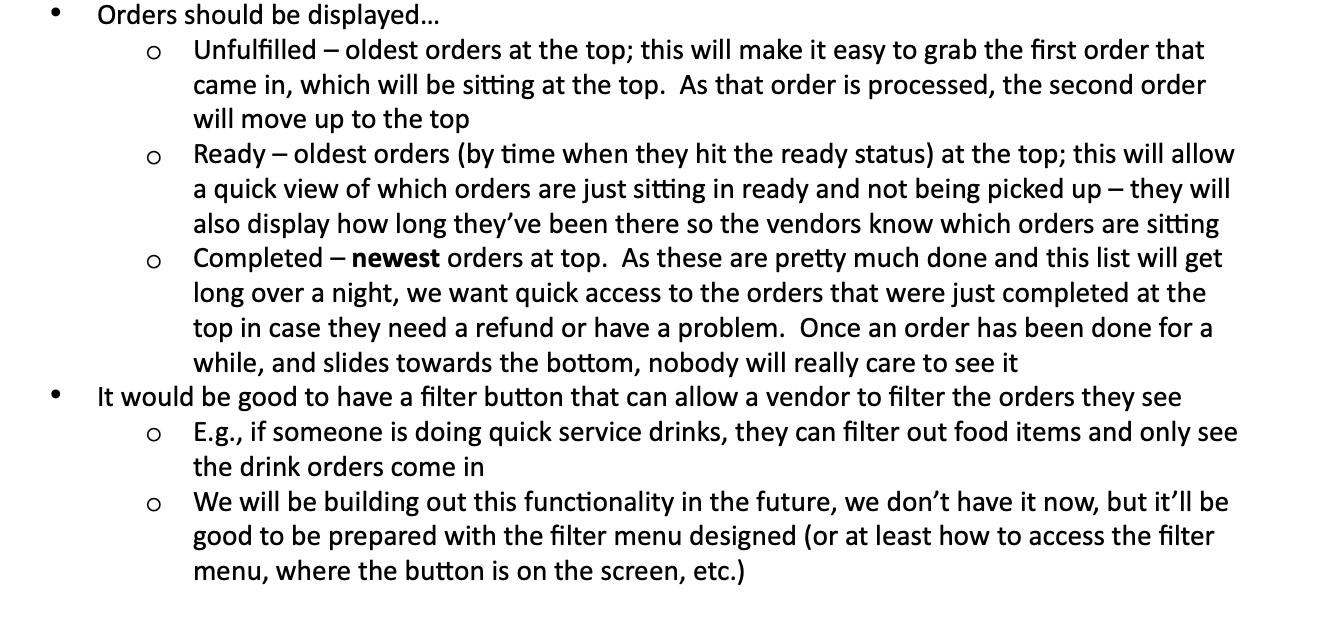 Research: Competitive Analysis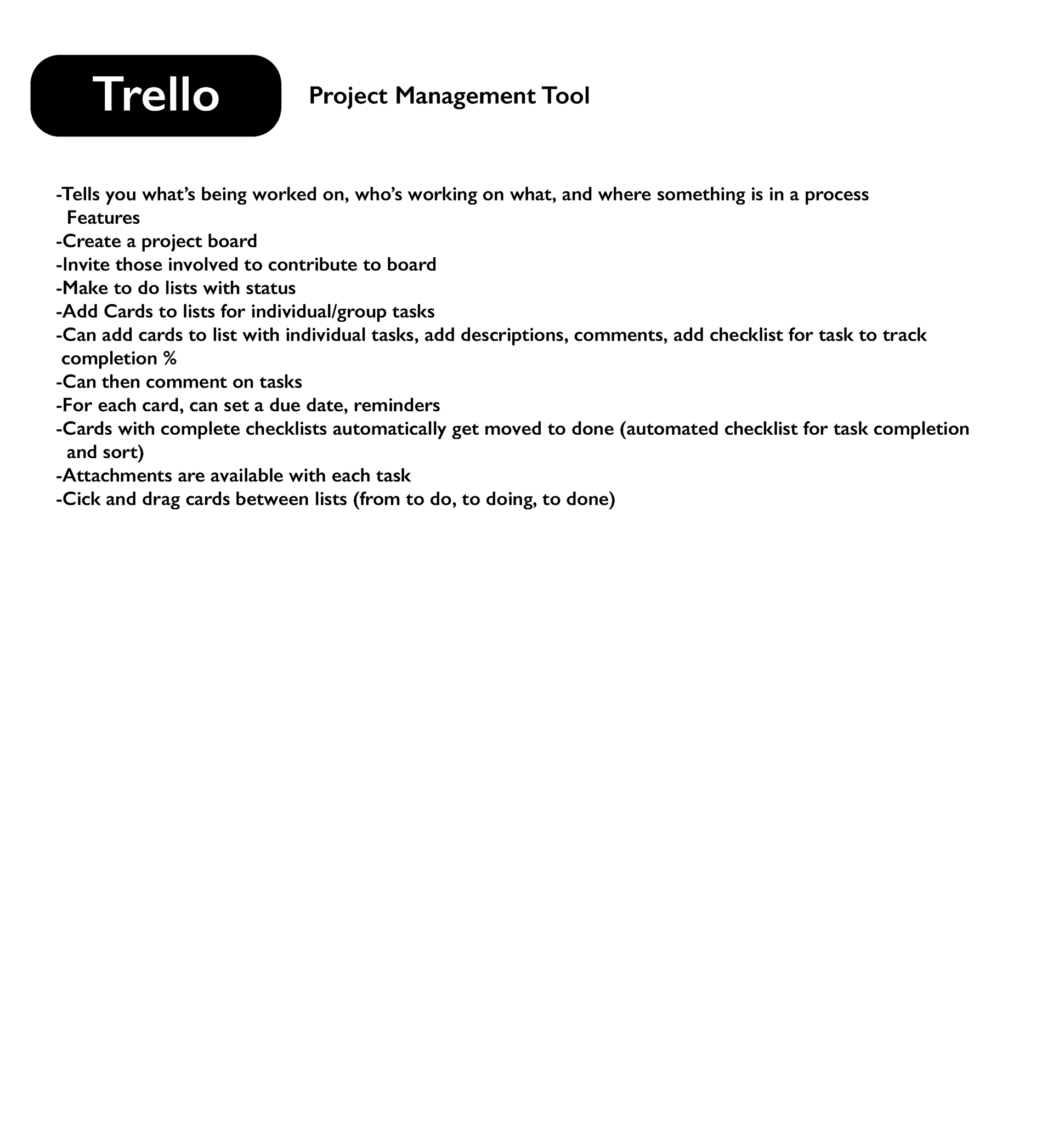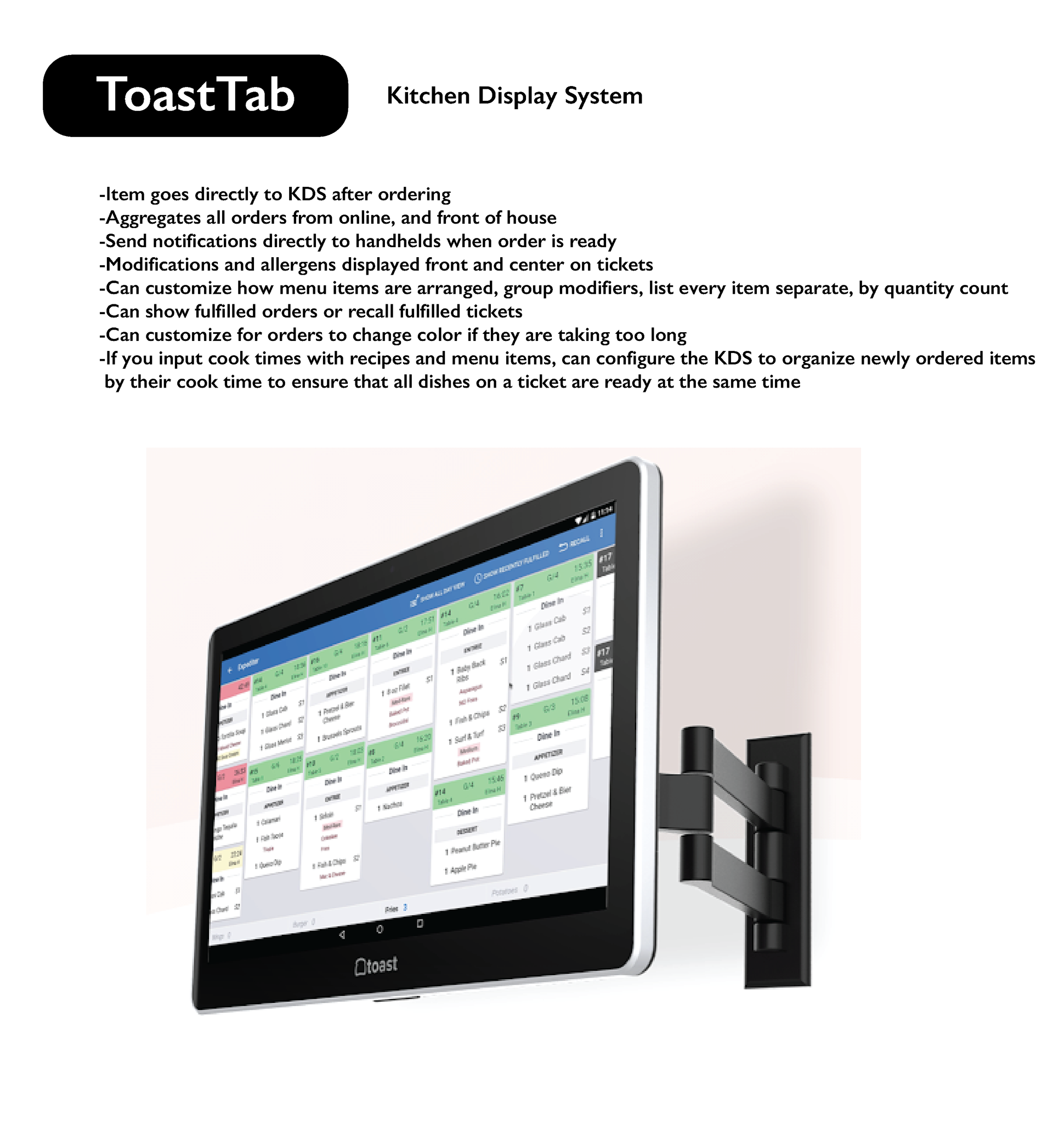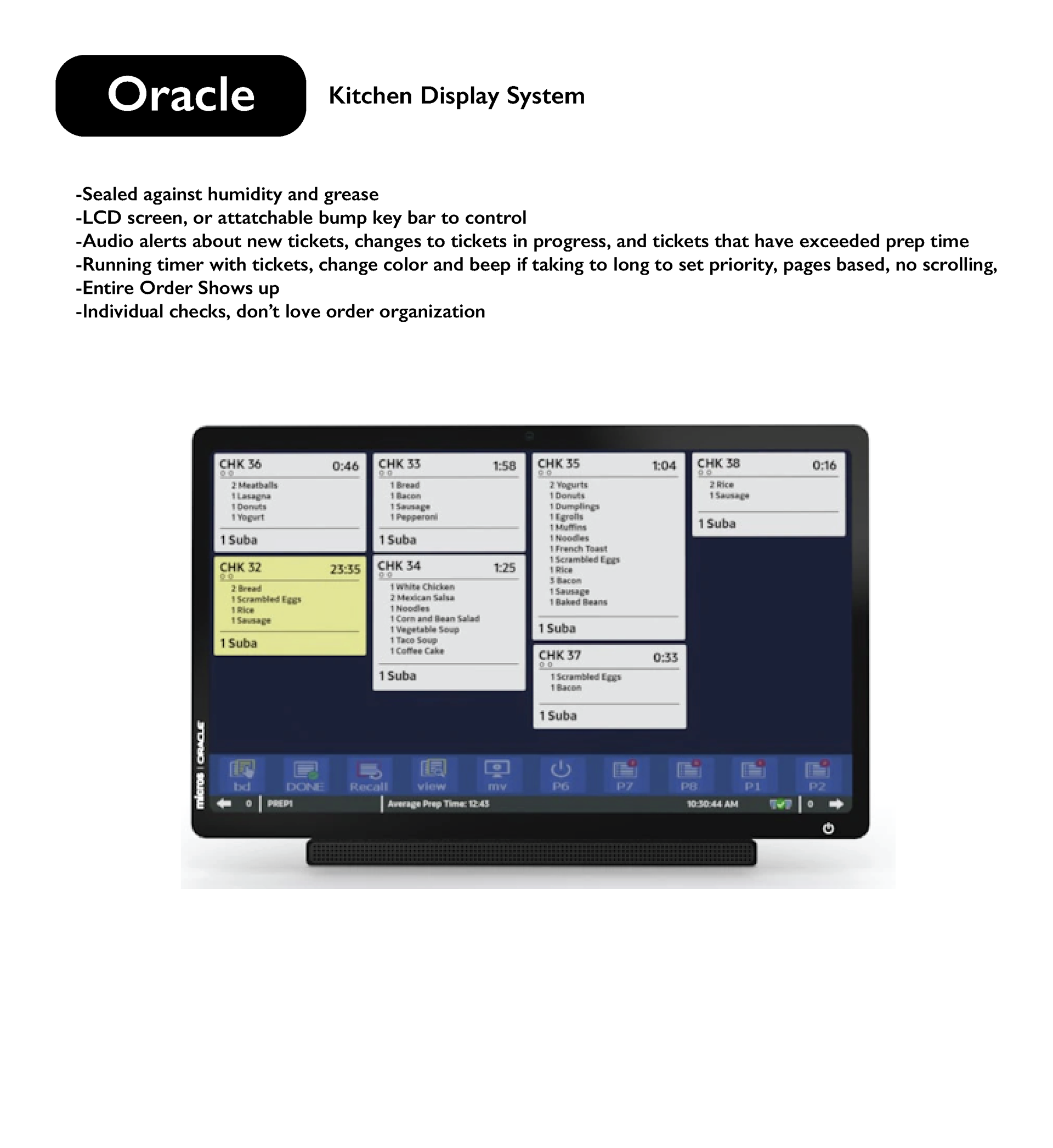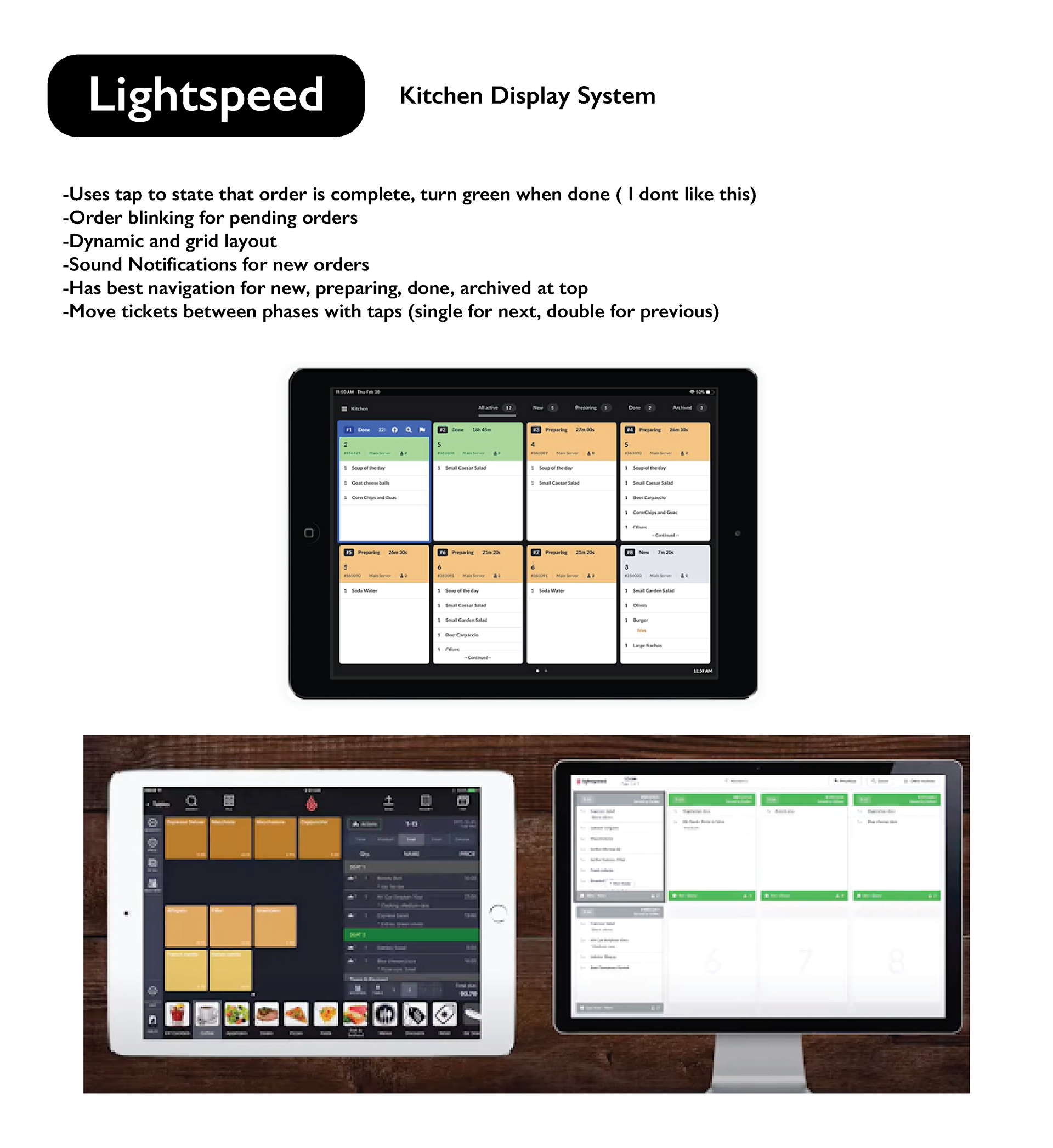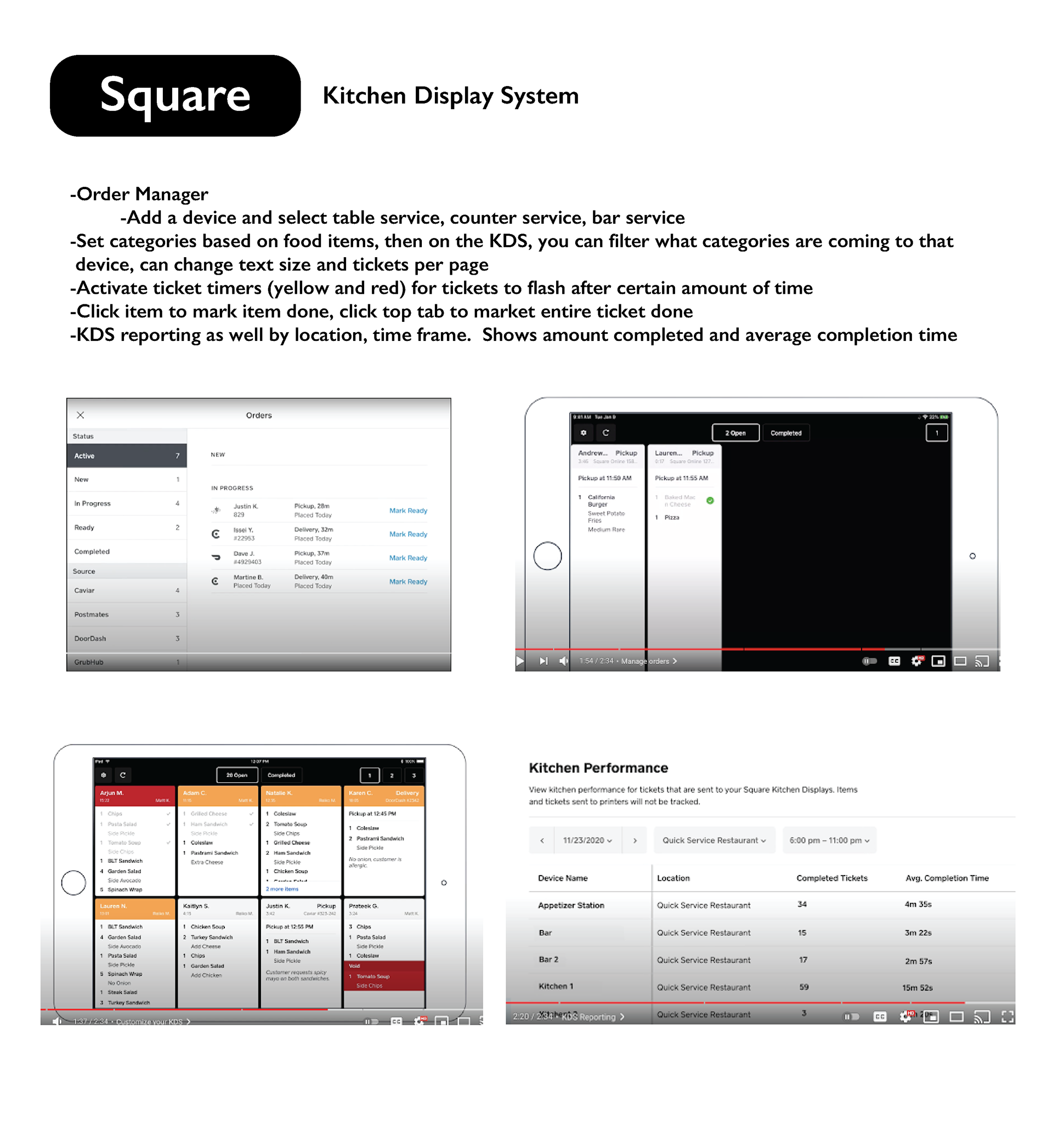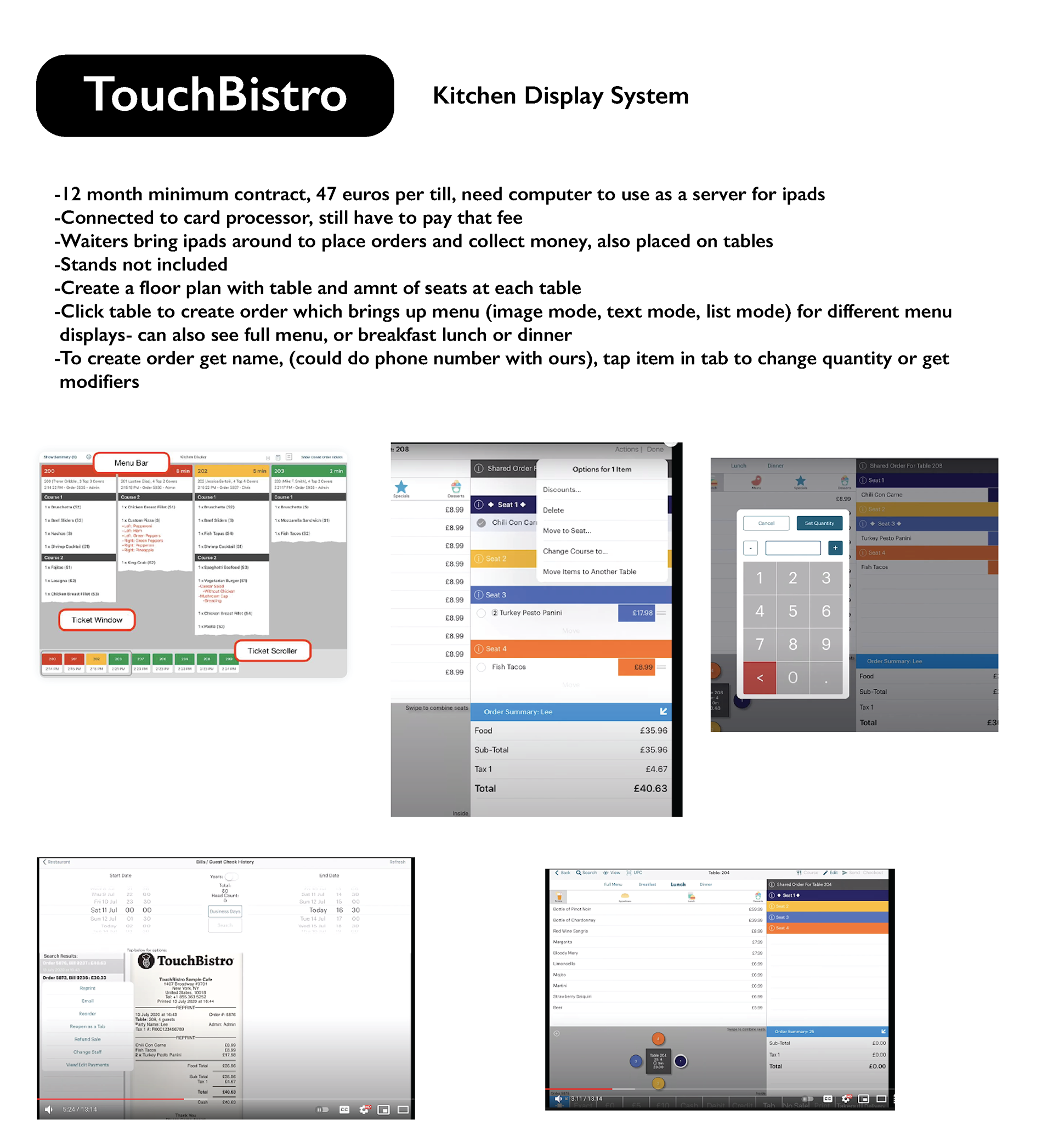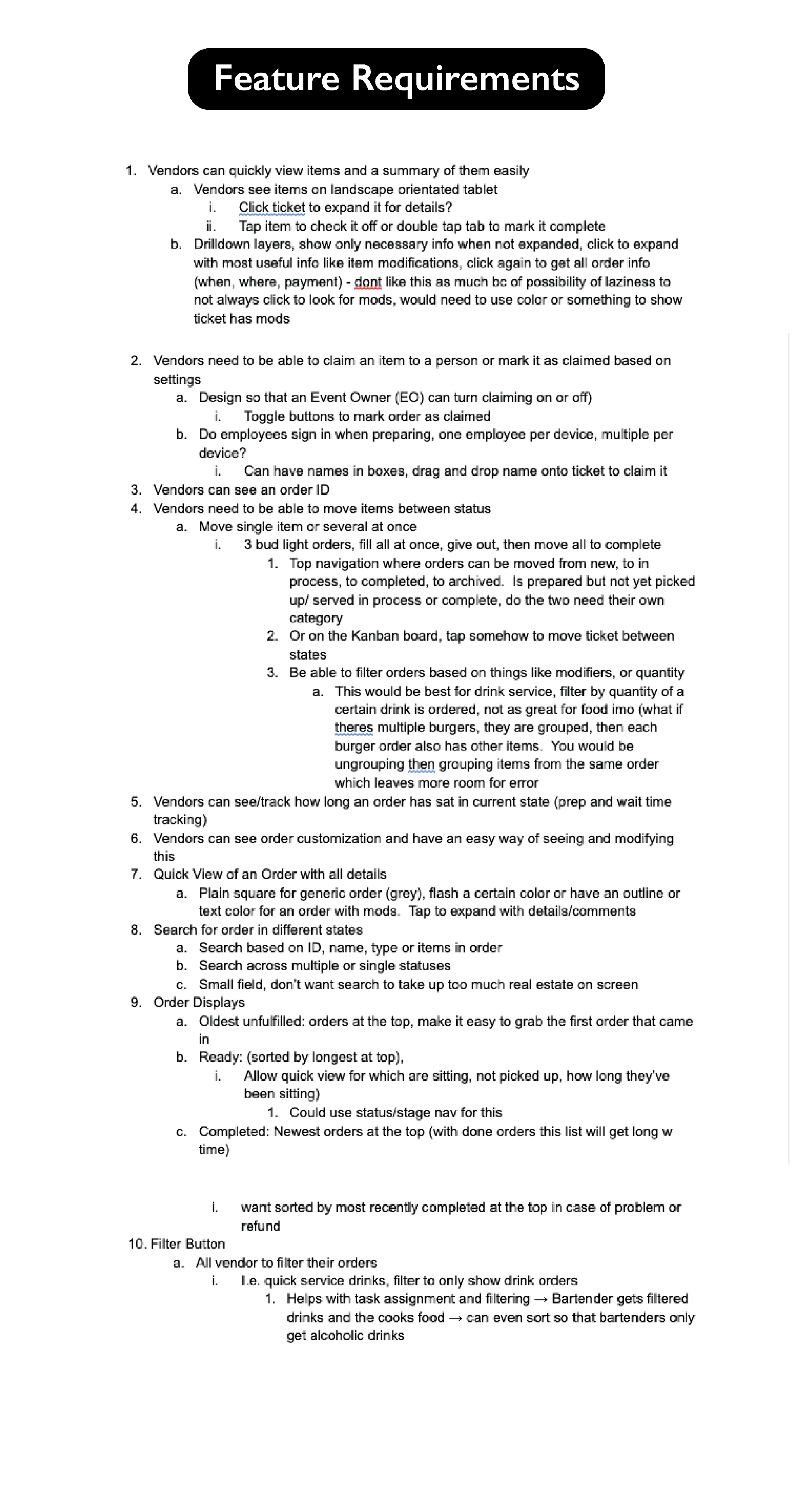 User Flow for Customer and Vendor
I completed my initial prototypes by building the most basic, and crucial screens.  I had scheduled design reviews and I treated each time in between as a development cycle.  I set out goals at the start of each cycle and focused on completing them through the cycle.  I started each next cycle with revisions from design reviews and user feedback.  Since our design goal was to focus on landscape iPad, I focused on that design cycle first.  Once iPad was completely done and approved, I moved on to completing both iPhone design styles using the iPad design systems.  Below, the variations of the final product are displayed. 
​​​​​​​
Final Prototype: iPhone Portrait and Landscape
Final Prototype: iPad Landscape